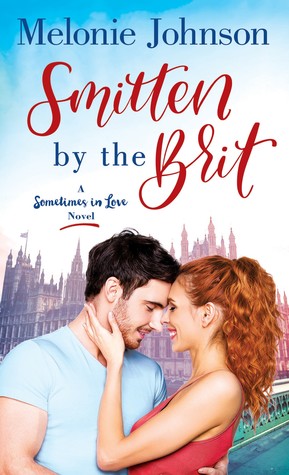 Title // Naslov: Smitten by the Brit
Author // Avtorica: Melonie Johnson
Release Date // Datum izdaje: May 28th 2019 (28. maj 2019)
Genre // Žanr: Contemporary Romance, sodobni roman
Buy here // Kupi tukaj: Amazon – B&N
Blurb:
Bonnie Blythe has modeled her life after her favorite books. If only her fiancé would get on the same page and agree to a wedding date.
She's not at all bitter that her best friend is getting married to a man she's known for less than a year, and Bonnie most definitely isn't thinking about the best man to be, Theo Wharton. It's just whenever she talks with the blue-eyed Brit, sparks fly.
When a shocking reveal ends Bonnie's engagement, she accepts a summer teaching job at Cambridge—only an hour away from Theo. Bonnie isn't ready for a new relationship, but the chemistry between her and Theo is impossible to ignore. But Theo's been hiding the truth about his identity; will Bonnie be able to weather the plot twist and grab the happily ever after of her dreams?
Povzetek iz zadnje strani:
Bonnie Blythe je svoje življenje zgledovala po njenih najljubših knjigah. Če bi se le njen zaročenec strinjal z njo in že pristal na datum poroke…
Sploh ni ljubosumna, da se njena najboljša prijateljica poroča z moškim, ki ga pozna manj kot eno leto in Bonnie definitvno ne razmišlja o njegovi poročni priči – Theu Whartonu. Samo to je, da vsakič, ko spregovori z modrookim Britancem, se iskre krešejo.
Ko šokantno razkritje konča Bonnijino zaroko, ta sprejme poletno delo učitelja na Cambridgu – le eno uro stran od Thea. Bonnie ni pripravljena na novo razmerje toda kemija med njima je očitna. Toda Theo skriva resnico o svoji identiteti; bo Bonnie pripravljena na ta zasuk v njuni zgodbi in dočakati svoj "srečno do konca svojih dni" ?
My thoughts:
I loved the previous book in this series and I loved this one as well. If Logan had me swooning with his "lass", Theo had me with "love". I suspected there will be a book about them from Getting Hot with the Scot and I was so happy when I saw that yes, the author made him a main character in the next book. So, if you haven't read the previous book I strongly recommend to read it (just to give you some background) but since both books are stand-alone, it's up to you if you want to do that.
I don't really read classics – such as Jane Austen or William Shakespeare – but I have heard of them (I mean, who didn't? :D) so I do know a little of their works. I'm saying that because this book is filled with quotes from Austen's books and also from Shakespeare's. So if you're a literary geek, an Austen fan, this is your book. Not only does Bonnie talk a lot about books, what is surprising is that Theo knows some quotes too. They are a match made in heaven, I guess.
As I said for the first book, this was fun to read too. I like Bonnie's loyalty to her friends and her fiancé, but what it did bother me at the moment was that she kept comparing Cassie's love life to hers – like how could she marry after knowing a guy for a year while Bonnie was engaged for a year and knowing her fiancé for her whole life. I understood where her thoughts came from but at the same time, I was like "yeah, you mentioned that before please stop". But at least, she wasn't like crazy jealous or something.
Theo, on the other hand, was very loyal to his family. He knew he had responsibilities to the family but at the same time, he didn't know what to do with his feeling for Bonnie. I love how the author included side characters – his sisters, especially Tabitha – to the story.
Like in the previous books in this too I didn't like that the POVs weren't separated. I know, I know, it's a minor detail but I like to know which POV I'm reading. Since the book releases in May I'm sure all these things will be fixed.
5 stars.
Melonie Johnson is a breath of fresh air in the literature. Her books are easy to read, pages basically turn themselves and characters are oh, so charming. I'm definitely stalking her everywhere (social media, I'm talking about social media, people) because I'm not missing any of her books anymore. Her third book is already on my TBR.
ARC provided via NetGalley in exchange for an honest review. I voluntarily read and reviewed an advanced copy of this book. All thoughts and opinions are my own.
Moje misli:
Prejšnjo knjigo v seriji sem naravnost požrla in ta tudi ni bila izjema. Če me je Logan prepričal s svojim "lass" (op. škotski izraz za dekle), me je Theo imel z "love" (op. ljubezen). Že prej sem slutila, da bosta nastopala kot glavna junaka v eni knjigi in bila sem presrečna, ko sem ugotovila, da jima je avtorica namenila naslednjo knjigo v seriji. Torej, če nisi še prebrala prejšnje knjige, ti to priporočam (da dobiš vpogled v njuno zgodovino) toda ker sta obe knjigi samostojni, je to, ali boš prebrala tudi Getting Hot with the Scot, odvisno le od tebe.
Sama ne berem klasičnih del – kot sta npr. Jane Austen in William Shakespeare – toda o njiju sem že slišala (mislim, kdo pa ni? :D) tako da poznam nekaj njunih del. Pa še to so bolj kot ne spomini iz gimnazije, ko je bila branje knjig nuja. Dvakrat ali celo trikrat sem si pogledala tudi film Prevzetnost in pristranost, narejen po delu Jane Austen z istim imenom. To govorim zato, ker je v tej knjigi ogromno citatov iz del Jane Austen in Williama Shakespeara. Torej, če si literarni piflar, fan Jane Austen, potem je to knjiga zate. Ne samo, da Bonnie veliko govori o knjigah, kar je presenetljivo je to, da tudi Theo pozna nekaj verzov. Narejena drug za drugega, bi rekla.
Kot sem rekla že za prvo knjigo, je bila tudi ta zabavno branje. Všeč mi je bila Bonnijina zvestoba prijateljicam in zaročencu, po drugi strani pa me je motilo, da je na trenutke primerjala Cassijino ljubezensko življenje svojemu – češ kako se Cassie lahko poroča z moškim, ki ga pozna manj kot eno leto medtem ko je sama Bonnie zaročena že eno leto z moškim, ki ga pozna praktično celo življenje. Saj po eni strani približno razumeš iz kje izhaja in da bi se ji nekaj takega podilo po mislih ampak po drugi pa sem bila že "ja, smo doumeli, prosim, nehaj s tem". Toda na srečo vsaj ni bila noro ljubosumna ali kaj podobnega.
Theo je bil ravno tako zvest svoji družini. Vedel je, da ima dolžnosti do družine ampak hkrati se je spopadal tudi s svojimi čustvi do Bonnie. Všeč mi je bilo tudi, kako je avtorica vključila stranske udeležence zgodbe – npr. njegove sestre, še posebno Tabitha, ki tudi odigra ključno vlogo v njuni ljubezenski zgodbi.
Kot v prvi knjigi, so me tudi v tej zmotile iste stvari in sicer, da ni bilo jasno razvidno, kdaj beremo iz njene in kdaj iz njegove perspektive. Saj vem, saj vem, res je majhna podrobnost, ampak sama rada vem, iz katere perspektive berem. Ker pa knjiga izide šele maja, se s tem ne ubadam preveč, ker sem prepričana, da bodo te detajle popravili do takrat.
5 stars.
Melonie Johnson je zame svež piš vetra v tuji literaturi. Njene knjige so lahke za prebrati, strani se praktično same obračajo in njeni glavni junaki so takooo očarljivi. Vsekakor ji že sledim povsod, kjer je mogoče (govorim seveda o družabnih omrežjih) zato da ne bom zgrešila kakšne nove knjige. Njena tretja knjiga je že na mojem TBR (op. "to be read", moj prevod bi bil "za prebrat") seznamu.
ARC (Knjiga, ki jo bralci v roke dobimo pred njeno izdajo) je bila zagotovljena preko spletne strani NetGalley v zameno za iskreno oceno. Knjigo sem prebrala in ocenila prostovoljno. Vse misli in mnenja so izključno moja.