Hey!
Okay, so there are just two days until the end of this year and many bookstagrammers and bloggers are or will be posting their favourite books of 2018. Since this year my blog is a little bit more active (I started it in November 2017 but I only posted like two posts) I decided to do that too.
I think it will be a fun way to do a little recap, to remember what I read this year.
My Goodreads says I have read 113 books until this day. I'm reading probably the last book of 2018 now (it's Bossy Brit by Kendall Ryan) because hellooo, I don't want my number to end on 13 (I know, I'm superstitious… and weird).
Many of those books were translated books, meaning I have them borrowed from the library and since it takes time to translate it, a couple of those books were published before 2018 worldwide.
If you want to know which books I read in 2018, head over to my Goodreads account (link on the top of the page) and check it out.
Shall we begin?
(note: the books are not mentioned in any particular order!)

Dirty Headlines by L. J. Shen
Release Date: September 4th 2018
Genre: Contemporary Romance
Célian Laurent.
Manhattan royalty.
Notorious playboy.
Heir to a media empire.
…And my new boss.
I could have impressed him, if not for last month's unforgettable one-night stand.
I left it with more than orgasms and a pleasant memory–namely, his wallet.
Now he's staring me down like I'm the dirt under his Italian loafers, and I'm supposed to take it.
But the thing about being Judith "Jude" Humphry is I have nothing to lose.
Brooklyn girl.
Infamously quirky.
Heir to a stack of medical bills and a tattered couch.
When he looks at me from across the room, I see the glint in his eyes, and that makes us rivals.
He knows it.
So do I.
Every day in the newsroom is a battle.
Every night in his bed, war.
But it's my heart at stake, and I fear I'll be raising the white flag.
My rating:
My review:
Lord of Vice 

by Erica Ridley
Release Date: August 31st 2018
Genre: Historical Romance
Vice merchant Maxwell Gideon is wickedly handsome, sinfully arrogant, and devilishly ruthless. Rumor has it, his gaming hell has the power to steal souls and grant miracles. Truth is, Max only owns half of The Cloven Hoof. He'd buy out his silent partner if he knew the man's identity. But it's hard to focus on business matters when a fallen angel tumbles right into one's lap…
Miss Bryony Grenville has a well-earned reputation as an unrepentant hoyden. But even the gossipiest of the pinch-faced matrons ruling High Society could never imagine the daughter of a baronet secretly financing the ton's most infamous gambling parlor. Its maddening, sexy proprietor doesn't suspect a thing… and two can play at temptation!
My rating:
My review:
Up in Flames 

by Jennifer Blackwood
Release Date: October 9th 2018
Genre: Contemporary Romance
Sloane Garcia has butted heads with Reece Jenkins ever since he was a colossal jerk of epic proportions on a night she'd rather forget. So what if he's overconfident, ultramasculine, and hard muscled? When she finds out he's on the auction block at the annual firefighter's charity event, she decides to give this cocky firefighter a dose of his own medicine. Now that she's won the hunk, he's on call—to do whatever Sloane wants.
Sure, Reece and Sloane had a rocky start, but he had his reasons. None of that matters now that he's the bachelor at her beck and call, tasked with granting her four wishes in four weeks. He runs into burning buildings for a living, but nothing will be as tough as dousing the flames Sloane ignites in him. What started out as just a game might end up with Reece losing the one thing he swore he'd never give up: his heart.
My rating:
My review:
Cowboy SEAL Christmas 

by Nicole Helm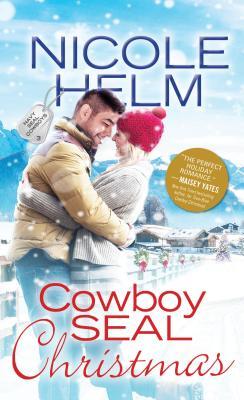 Release Date: September 4th 2018
Genre: Contemporary Romance
Single mom and Revival Ranch's on-site therapist Monica Finley has dedicated her life to helping brave servicemen and women, but former Navy SEAL Gabe Cortez is the one man whose shell she just can't crack. Yet with the holidays fast approaching, she may finally have a plan. In a bid to get Gabe to open up, she'll ask for as much help as possible―cutting down the Christmas tree, stringing lights, the whole nine yards.
Who could possibly be a Grinch with so much holiday cheer in the air?
Gabe has always hated Christmas―the holiday never fails to remind him just how alone he truly is. But the more time he spends with Monica and her young son, the more he finds himself drawn to their cozy little family…and the more he begins to realize his long-suppressed Christmas dreams may finally be coming true.
My rating:
My review:
Once Upon a Player 

by Christina Phillips
Release Date: July 13th 2018
Genre: Contemporary Romance
Violet
When my mum gets sick, I volunteer to fill in for her and clean some hot jock's penthouse. I've heard all the rumors about him, so the plan is get in, clean some toilet bowls, and get out. After my last experience with a "sports hero," I'm done with that sort of guy.
But Lucas Carter is full of surprises. He wants to help me clean and is nothing like the toad the press has made him out to be. Resistance may be futile for some girls, but not me. Then he asks me to help him with the interior design of his new place. I can't say, no. It's going to look great on my resume.
Unfortunately, spending time with Lucas is dangerous. He's so charming and sweet, but I can't let myself forget––once a player, always a player.
My rating:
My review:
Hard Sell 

by Lauren Layne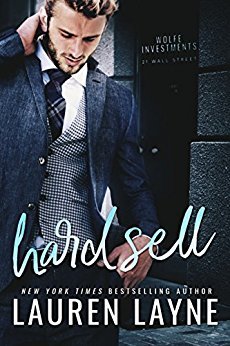 Release Date: September 4th 2018
Genre: Contemporary Romance
Twenty-eight and filthy rich, Matt Cannon is the youngest broker on Wall Street. He may be a "boy wonder," but he's every inch a man. Ask any woman—any night. But when Matt's latest fling makes scandalous headlines, his clients get anxious, and his bosses at Wolfe Investments level an ultimatum: keep his assets zipped, get a "real" girlfriend, and clean up his act. Only one woman can help Matt with something this hard.
For PR genius Sabrina Cross, the best fixer in Manhattan, playing Matt's steady is going to be a challenge, even if it's just for show. They already have an explosive history, she can't stand the cocky party boy, and worse—she can't stop thinking about him. So who'll dare to break her "no touching" rule first? Because when that happens, Matt and Sabrina's game of let's pretend will get so hot it could set both their reputations on fire.
My rating:
My review:
Taming Him 

by Kennedy Fox
Release Date: January 30th 2018
Genre: Contemporary Romance
Alex Bishop is your typical cowboy.
Charming, sexy, and wears a panty-melting smirk.
Working on the ranch helped build his solid eight-pack and smoking body. He's every girl's wet fantasy, and he knows it too. Alex doesn't follow the rules of your typical playboy bachelor. After wining and dining his dates and giving them the best night of their lives, he always sends flowers and calls the next day—even if it's to say, let's just be friends. His mama taught him manners after all, and his Southern blood knows how to be a gentleman. Still, that isn't enough to tame the wildest of the Bishop brothers.
River Lancaster has finally met the man of her dreams. Too bad after six months of romantic bliss, she finds out he's married. With a broken heart and blind rage, she books herself a ticket to Key West, Florida. Tired of cheaters and liars, she's set on escaping to forget he ever existed. Who needs a man when there's an all-you-can-drink margarita bar, anyway? That's what she tells herself until she bumps into the right guy who can make all those bad memories disappear.
Even if it's only temporarily.
Two weeks on the beach is what they both need. No strings attached, no expectations, no broken hearts. Too bad the universe has other plans—one that'll change the entire course of their lives in just nine short months.
My rating:
My review:
(Lol, yeah, I know it's an extremely short review ;))
Going Down On One Knee 

by Christina Hovland
Release Date: October 15th 2018
Genre: Contemporary Romance
Number-crunching Velma Johnson's perfectly planned life is right on course.
That's a lie. Sure, she's got the lucrative job. She's got the posh apartment. But her sister nabbed Velma's Mr. Right. There has to be a man out there for Velma. Hopefully one who's hunky, wears pressed suits, and has a diversified financial portfolio. He'll be exactly like, well… her sister's new fiancé.
Badass biker Brek Montomery blazes a trail across the country, managing Dimefront, one of the biggest rock bands of his generation. With the band on hiatus, Brek rolls into Denver to pay a quick visit to his family and friends. But when Brek's sister suddenly gets put on bed rest, she convinces Brek to take over her wedding planning business for the duration of her pregnancy.
Staying in Denver and dealing with bridezillas was not what Brek had in mind when he passed through town, but there is one particular maid-of-honor who might make his stay worthwhile.
Velma finds herself strangely attracted to the man planning her sister's wedding.
Problem is, he ticks none of the boxes on her well-crafted list. Brek is rough around the edges, he cusses, and doesn't even have a 401(k). But trying something crazy might get her out of the rut of her dating life—so long as she lays down boundaries up front and sticks to her plan…
My rating:
My review:
Cowboy Charm School 

by Margaret Brownley
Release Date: September 4th 2018
Genre: Historical (Western) Romance
Texas Ranger Brett Tucker hates to break up a wedding, but the groom—notorious criminal Frank Foster—is a danger to any woman. So he busts into the church, guns blazing…only to find he has the wrong man.
Bride-to-be Kate Denver is appalled by her fiancé's over-the-top reaction to the innocent mistake and calls off the wedding—for good. Guilt-ridden, Brett's desperate to get them back on track. But the more time he spends with Kate, the harder he falls…and the more he yearns to prove that he's her true match in every way.
My rating:
My review:
Love Like Ours 

by Melissa Foster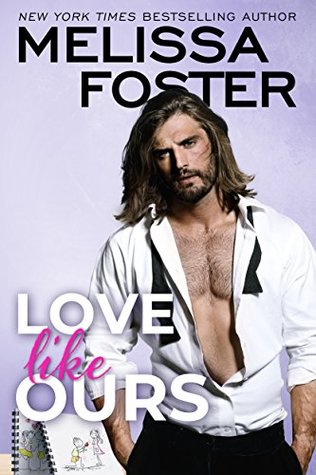 Release Date: September 11th 2018
Genre: Contemporary Romance
Talia Dalton lives her life on cruise control. Despite her successful career as a professor, she prefers protecting her broken heart to taking chances. She's calm, cool, collected, and steady. Until the morning she takes her eyes off that familiar road and almost runs over the sexiest man she's ever seen. It may not be the best way to start the day, but it might be the type of shake-up she needs.
Male dancer Derek Grant has goals, and nothing is going to get in the way of achieving them. As a graduate student and the sole caretaker of his ailing father, he hasn't much time for relationships. Then Talia crashes into his life. Sweet, pretty — and so buttoned-up that he can't wait to help her cut loose.
For Derek, falling in love was a beautiful accident waiting to happen. And it might be exactly what Talia needs — if she's willing to let go of the past and embrace every surprise Derek has to offer.
My rating:
My review:
Well, that's it! It was really hard to choose from all my books because many were published before but I think I manage to find "the best of the best". I do realise there are many great books out there who were published this year but unfortunately, I didn't get a chance to read it. Many are probably still on my Kindle app but since I'm more of a "in a moment" kind of girl, I read only the ones that I kind of "crave" in a particular moment 😉
Have you heard of any of those books listed? Or of the authors? Many, I admit, were new to me but through the year I find a lot of new authors and I'm so excited to see their new books!
What's your top 10 of 2018?
Till next time,
Nina
P.S.: I know many books listed are rated with "just' four stars but don't let that fool you, they are great either way! I'm just a little picky, that's all 🙂