Title // Naslov: Dangerous Desires
Author // Avtorica: J. T. Geissinger
Release Date // Datum izdaje: August 20th 2019 (20. avgust 2019)
Genre // Žanr: Contemporary Romance, sodobni roman
Buy here // Kupi tukaj: Amazon
Blurb:
With Nasir's life on the line, Eva makes a deal with the devil. She slips away to return to Dimitri, the mob boss who held her captive for years, only to step into a new world of trouble. Abducted by one of Dimitri's most cunning adversaries, Eva finds herself an unwitting pawn in a dangerous game of cat and mouse.
When Eva disappears, Naz is prepared to do anything to find her. Tracking her to the remote regions of Portugal is just the beginning of the hunt. Bewitched by Eva's beauty, the darkly seductive spy who abducted her now has more than business on his mind, but the only way for the trio to defeat Dimitri is to work together…despite the explosive desires threatening to consume them.
With a game so deadly and the stakes so high, Naz and Eva's love will be tested in ways neither of them could foresee…or perhaps survive.
Povzetek iz zadnje strani:
Z Nasirjevim življenjem na vrvici, Eva sklene dogovor s hudičem. Izmuzne se, da bi se vrnila k Dimitriju, mafijskemu vodji, ki jo je proti njeni vollji zadržal leta in leta, vendar stopi v nov svet težav. Ugrabljena iz strani Dimitrijevega enega najbolj pretkanih sovražnikov, se Eva znajde kot nenamerna figurica v nevarni igri mačke in miši.
Ko Eva izgine, je Naz pripravljen narediti karkoli, da bi jo našel. Izslediti jo v najbolj oddaljene kraje Portugalske je le začetek lova. Začaran z Evino lepoto, temačno privlačni vohun, ki jo je ugrabil, ima po ta novem več kot posel v mislih toda edini način, da premagajo Dimitrija je, da trojica združi moči…kljub eksplozivnimu poželenju med njimi.
S tako nevarno igro in visokimi vložki, bo Nazova in Evina ljubezen na preizkušnji na več načinov, ki jih noben od njiju ne predvidi…ali preživi.
My thoughts:
Okay, first a fair warning: This is not a standalone book and you cannot start this series with this book, you need to read the first one – Dangerous Beauty (my review here)!!!
So the book follows Eva's journey after she left him. She wanted to go back to Dimitri because she wanted to protect Naz – I can understand that even though I'm sure Naz could offer protection to both of them. Unfortunately, she finds herself on the boat with the spy. Now, I don't know about you but personally, I'd prefer if I didn't know beforehand that he was a spy (the blurb is a little spoiler-ish) because then my reading experience would be different – if I didn't see him as a hero too. He did some terrible things but when it's explained (and of course, when you know he's a spy) you easily forgive him.
Naz is pissed (what else, right?) and went to get her back. They reunite in Portugal (and the reunion is quite quick, I so wasn't expecting such an easy reunion) and they are planning to destroy Dimitri. We're left with that (huh, yes, for such a long book and me basically saying it all without – hopefully – spoil everything).
Buuuuuut….
I hate to say this but OMG, THAT ENDING. She did something so stupid, I'm pretty sure some readers would call her action TSTL. It's THAT stupid, okay? Like when I was reading what she did I was like "NOOOOOOOOOOOOO, DON'T DO THAT, HOW STUPID ARE YOU?". I'm pretty sure I looked like this: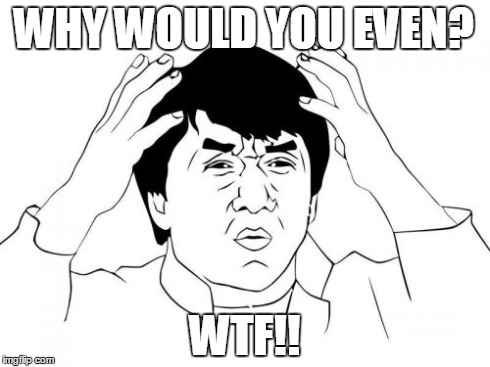 With that said, you have been warned. It was a great read with not much action as the first book (I mean suspense and that not the sexual kind 😉 ) but I wish the blurb wouldn't be so revealing and her action(s) wouldn't be so stupid. Also, when I read the blurb it kind of hinted like there might be a twisted love triangle or a menage – there's thankfully none of that (not that I mind it – I just wouldn't expect it after the first book) …
3.5 stars.
I am curious how their story concludes so I'm looking forward to the final part even though trilogies with the same MCs are so not my cup of tea.
ARC provided via NetGalley in exchange for an honest review. I voluntarily read and reviewed an advanced copy of this book. All thoughts and opinions are my own.
Moje misli:
Okej, najprej opozorilo: To ni samostojna knjiga in s to knjigo se nikakor ne začne te serije ampak moraš začeti s prvo knjigo – Dangerous Beauty (moj review najdeš tukaj)!!!
Torej knjiga nadaljuje Evino pot po tem, ko ga je zapustila. Želela je nazaj k Dimtriju, da bi zaščitila Naza – to razumem, čeprav sem prepričana, da bi Naz lahko nudil zaščito obema). Na žalost se znajde na krovu z vohunom. Sedaj, ne vem kako je pri tebi ampak osebno bi mi bilo ljubše, če ne bi že vnaprej vedela, da je vohun (povzetek je malo spoiler-ish), ker bi bila moja bralna izkušnja drugačna – na njega ne bi gledala tudi kot na junaka. Naredil je nekaj groznih stvari in ko so razložene (in ko seveda že veš, da je vohun) mu zlahka oprostiš.
Naz je jezen (nič novega, kajne?) in gre za njo, da jo dobi nazaj. ponovno se srečata na Portugalskem (in njuno srečanje je zelo hitro, res nisem pričakovala tako lahke združitve) in skupaj začneta načrtovati, kako uničiti Dimitrija. S tem se zgodba zaključi (huh, ja, za tako dolgo knjigo in z mojim upajmo da ne preveč spoiler revjujem).
Todaaaaaa…
To nerada rečem ampak OMG, TA KONEC. Naredila je nekaj skrajno neumnega. Res neumnega, okj? Ko sem brala, kaj je naredila, sem rekla "NEEEEEEEEE, NE NAREDI TEGA, KAKO NEUMNA PA SI?". Moj obraz je zgledal nekako takole: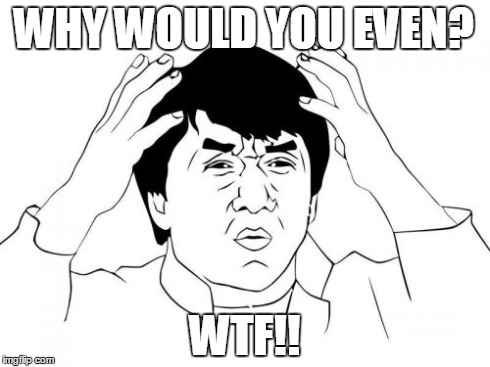 S tem rečenim, bila si opozorjena. Saj knjiga je super z ne toliko akcije kot ta prva knjiga (ne v seksualnem smislu 😉 ) toda želim si, da povzetek ne bi bil tako odkrivajoč in njena dejanja tako neumna. Plus, ko sem brala povzetek, je malo namigovalo na ljubezenski trikotnik ali menage – nič od tega ni notri (me ne bi motilo, samo ne bi pričakovala po prvi knjigi) …
3.5 zvezdic.
Res me zanima, kako se njuna zgodba zaključi tako da se veselim zadnjega dela, čeprav ne maram trilogij.
ARC (Knjiga, ki jo bralci v roke dobimo pred njeno izdajo) je bila zagotovljena preko spletne strani NetGalley v zameno za iskreno oceno. Knjigo sem prebrala in ocenila prostovoljno. Vse misli in mnenja so izključno moja.