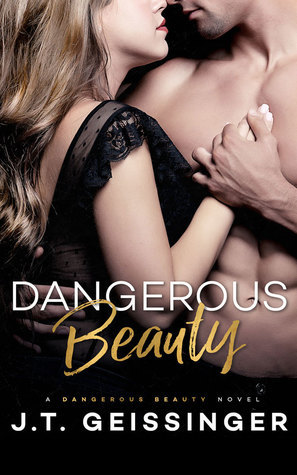 Title // Naslov: Dangerous Beauty
Author // Avtorica: J. T. Geissinger
Release Date // Datum izdaje: March 26th 2019 (26. marec 2019)
Genre // Žanr: Contemporary Romance, sodobni roman / Suspense
Buy here // Kupi tukaj: Amazon
Blurb:
For Nasir, former Special Ops military man and bodyguard, his new job seems like an easy-money gig: trail a Russian mobster's runaway wife in Mexico, enjoy the sun, observe, and report. Just one rule: don't get too close. But it's all Naz can do not to watch the alluring dancer's every move. A closer look is irresistible—especially when she's in trouble.
Evalina escaped to the island getaway to live an untraceable life—as far away from the past as she can get. But Eva can't ignore the dark, muscled stud who rescues her from a drug gang. He says he's an ex-cop on vacation. When providence throws them together time and again, Eva thinks it's all a beautiful coincidence. Now she's giving in to a strange new sensation: trust.
But Naz has a mission to accomplish and a secret to keep. Eva has her share of secrets, too. And as the heat flares between them, Naz knows that trust could become the most dangerous impulse of all.
Povzetek iz zadnje strani:
Za Nasirja, nekdanjega vojaka posebnih operacij in varnostnika, nova služba izgleda kot na hitro pridobljen denar: sledi pobegli ženi ruskega mafijca v Mehiko, se sonči, opazuj in poročaj. Le eno pravilo obstaja: ne približaj se. Toda to je vse, kar Naz zmore. Pogled od blizu je neizogiben – še posebno, če se znajde v nevarnosti.
Evalina je pobegnilana otok, da bi živela neizsledljivo življenje – čim dlje stran kolikor premore. Toda Eva ne more ignorirati temnega, mišičastega moškega, ki jo reši pred ulično tolpo. Pravi, da je nekdanji policaj na počitnicah. Ko ju usoda kar naprej daje skupaj, si Eva misli, da je vse le srečno naključje. Sedaj seprepusti novemu občutku: zaupanju.
Toda Naz ima misijo, ki jo mora doseči in skrivnost, ki jo namerava obdržati. Eva ima svoje skrivnosti. In ko vročina med njima narašča, se Naz začne zavedati, da bi zaupanje lahko postalo najbolj nevaren impulz do sedaj.
My thoughts:
It has been a long time since I have read suspense. This book has me on the edge of my seat, I just couldn't put it down!
Nasir is on a mission. He's watching Eva but he's never too close. Until one day Eva realizes someone is watching her and tries to lose him in the small streets on the island. Problem is, she finds herself surrounded with guys from a gang. Thankfully, Nasir helps her and soon they find themselves some sort of friends.
Keep your friends close and your enemies closer? More like keep your mission close. After all, that way Nasir can watch her without her being suspicious.
But Eva then tells him her secrets and he found out that his mission may not be that black and white as he thought he was. In order to escape the terrible game in which they starred as pawns, Nasir must risk everything if he wants Eva for himself.
This story is full of love, humor, and suspense and I strongly recommend it. Now, I was a little surprised when I found out on Goodreads that the story actually continues in the second book. I would appreciate if I knew that in advance when I requested in on NetGalley so I'll give a half star less. But the book is truly wonderfully written and if I haven't requested it I would never know this amazingly written story. I can't wait for the second book, I'm really curious about what will happen next.
My first book by this author, by the way.
4.5 stars.
ARC provided via NetGalley in exchange for an honest review. I voluntarily read and reviewed an advanced copy of this book. All thoughts and opinions are my own.
Moje misli:
Že dolgo časa je odkar sem brala bolj napete romane, ki vključujejo še več akcije kot romantike. Te knjige kar nisem mogla nehati brati, tako dobro je napisana!
Nasir je na misiji. Opazuje Evo vendar se ji nikoli ne približa. Dokler se nekega dne Eva ne zave, da jo nekdo opazuje in mu skuša pobegniti v uličicah mesta. Na žalost se znajde obkoljena z moškimi, ki pripadajo tolpi. Na srečo pa jo reši Nasir in kmalu postaneta neke vrste prijatelja.
Imej prijatelje blizu in sovražnike še bližje? Bolj imej misijo še bližje. Konec koncev, tako jo lahko Nasir opazuje brez da bi ta se tega zavedala.
Toda Eva mu potem pove svoje skrivnosti in on odkrije, da njegova misija le ni taka, kotje zgledala na prvi pogled. V želji, da bi pobegnila strašni igri v kateri sama nastopata kot figurici, mora Nasir žrtvovati vse, če želi Evo le zase.
Zgodba je polna ljubezni, humorja in napetosti in jo močno priporočam. Bila sem nekoliko presenečena, ko sem na Goodreadsu odkrila, da se zgodba nadaljuje v drugi knjigi. Tega nisem vedela, ko sem zaprosila za knjigo na NetGalleyu zato dajem pol zvezdice manj. Toda knjiga je res čudovito napisana in če ne bi zaprosila zanjo, ne bi nikoli poznala te prekrasno napisane knjige. Komaj čakam na drugi del, res me zanima, kako se njuna zgodba odvije.
Moja prva knjiga te avtorice ampak vsekakor ne zadnja.
4,5 zvezdice.
ARC (Knjiga, ki jo bralci v roke dobimo pred njeno izdajo) je bila zagotovljena preko spletne strani NetGalley v zameno za iskreno oceno. Knjigo sem prebrala in ocenila prostovoljno. Vse misli in mnenja so izključno moja.