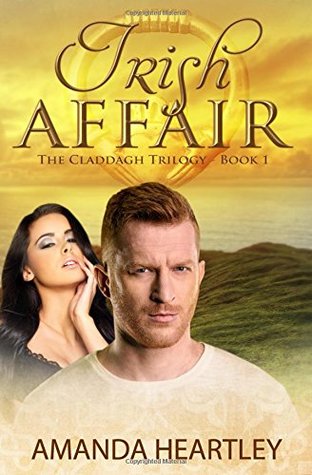 Title // Naslov: Irish Affair
Author // Avtorica: Amanda Heartley
Release Date // Datum izdaje: February 12th 2018 (12. februar 2018)
Genre // Žanr: Contemporary Romance, sodobni roman
Buy here // Kupi tukaj: Amazon
Blurb:
WTF do you do when your boyfriend has an affair… with another guy?
Amelia
Fall for someone on the other side of the world, of course, and Garrett seems like the perfect distraction. After months of online face time, I take the plunge and fly over to surprise him. Oh, I surprise him alright, but his cute little wife isn't quite so pleased to see me.
I'm starting to think it must be something about me.
So, now I'm alone in the middle of Dublin, wondering how it all went so wrong. All the guys I meet turn out to be douchebags. I'm swearing off men-at least, that was my plan until he sat next to me at the bar.
The moment those intense green eyes stray my way, I cave in. The more time I spend with Rory, the more I like him. But in the back of my mind, I'm leery. How is he any different to the rest of the guys I've fallen for?
Seems they all let me down eventually.
Rory
I get recognized wherever I go… in Ireland, at least. I'm a famous music star, but I don't crave the limelight. Just for once, I want to be with someone who likes me, just for me, and not my money or fame.
The moment Amelia flashes that sexy smile at me, I'm hooked on those luscious lips. And, when I learn why she's in Dublin, I'm determined to show her us Irish guys aren't all bad.
I like her a lot but breaking down her defenses is harder than I thought. I'm up for the craic with her, and if I can get her to let her guard down, I'll show her I'm different-that I'm not like all the other guys who've hurt her before.
But, maybe I'm no better than them? She has no clue who I really am, and the more time we spend together, the harder it becomes to tell her the truth.
I know I need to be the one who tells her. If she finds out on her own, it'll break her heart all over again, and that's the last thing I want to do to this beautiful lass.
Povzetek iz zadnje strani:
Kaj za vraga narediš, če ima tvoj fant afero… z drugim moškim?
Amelia
Zaljubiš se v nekoga drugega na drugem koncu sveta, seveda, in Garrett se zdi kot popolna motnja. Po mesecih pogovarjanja prek spleta, tvegam in ga obiščem na Irskem, da ga presenetim. Oh, in kakšno presenečenje je to bilo, saj njegova žena ni bila ravno navdušena nad mano.
Razmišljam, da je morda kaj narobe z mano.
Sedaj sem sama sredi Dublina in se sprašujem, kako je šlo vse narobe. Vsi fantje, ki sem jih spoznala, so se izkazali, da so kreteni. Končno sklenem dogovor, da se nebom več zapletala z moškimi, ko se on usede zraven mene v baru.
V trenutku, ko se njegove zelene oči srečajo z mojimi, se vdam. Več časa, ko preživim z Roryjem, bolj mi je všeč. Toda še vedno sem pazljiva. Kako je lahko on drugačen od vseh preostalih moških, ki sem jih spoznala?
Izgleda, da me vsi sčasoma razočarajo.
Rory
Prepoznajo me, kamor koli grem… vsaj na Irskem. Sem slavna glasbena zvezda, toda ne želim biti v soju luči. Samo enkrat bi rad bil z nekom, ki me ima rad, samo mene, in ne mojega denarja ali slave.
V trenutku, ko se mi Amelia nasmehne, me njene ustnice začarajo. In ko spoznam, zakaj je v Dublinu, sem odločen, da ji pokažem, da nismo vsi Irci slabi.
Zelo mi je všeč, toda prebiti se čez njene ovire postaja težji oreh kot sem si mislil. Rad bi ji pokazal, da sem drugačen – da nisem tak kot ostali fantje, ki so jo ranili.
Toda mogoče nisem boljši od njih? Nima pojma, kdo sem, in dlje časa, ki ga preživiva skupaj, težje ji je povedati resnico.
Vem, da moram biti jaz tisti, ki ji mora povedati. Če bo to odkrila sama, bo ponovno zlomilo njeno srce in to je zadnja stvar, ki jo želim zanjo.
My thoughts:
This is a sexy novella about two people whose lives are completely different. Rory can't go anywhere without being recognised and Amelia has trouble with finding the right guy.
It was exactly what I needed when I wanted to read something fun and even though it's my first read by this author and also a novella, I'm sure I'll be reading her books in the future.
4 stars.
ARC provided via NetGalley in exchange for an honest review. I voluntarily read and reviewed an advanced copy of this book. All thoughts and opinions are my own.
Moje misli:
Ta knjiga je v bistvu kratka zgodba o dveh ljudeh, ki živita popolnoma drugačno življenje. Rory ne more iti nikamor ne da bi ga kdo prepoznal in Amelia ima problem kako najti pravega moškega.
Ta knjiga je bila točno to, kar sem v danem trenutku želela, nekaj lahkotnega, zabavnega. Čeprav je bila to moja prva knjiga te avtorice, sem prepričana, da jo bom še brala.
4 zvezdice.
ARC (Knjiga, ki jo bralci v roke dobimo pred njeno izdajo) je bila zagotovljena preko spletne strani NetGalley v zameno za iskreno oceno. Knjigo sem prebrala in ocenila prostovoljno. Vse misli in mnenja so izključno moja.